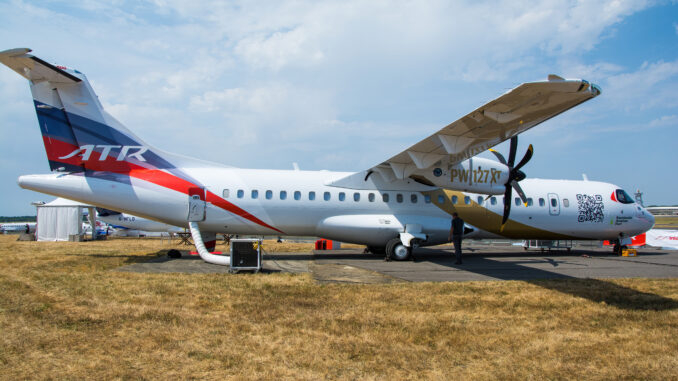 European airframer ATR says it is set for growth for the first time in several years in 2023 as the effects of the COVID pandemic and subsequent tough economic climate ease off.
The global ATR fleet is now back close to pre-COVID numbers at around 1,200 ATR aircraft in operation and 2022 saw the company deliver 22 new aircraft and 11 pre-owned aircraft.
Other milestones in 2022 included ATR performing the first 100% SAF powred flight and around 150 new routes were created globally using ATR aircraft.
The company is targeting 40 deliveries in 2023 as it seeks to ramp up production of its turboprop airliners to 80 per year in the next few years.
ATR Chief Executive Officer, Nathalie Tarnaud Laude, said: "The goal for 2023 is to maintain our position as the leading regional aircraft manufacturer, by targeting at least 40 deliveries, with the ambition to ramp up production to 80 aircraft in the coming years.
"With their unbeatable economics, latest technologies and unrivalled environmental performance, ATR aircraft are what customers need to operate their routes profitably, despite inflation and energy uncertainty.
"What drives us is that sustainable regional aviation has the power to improve lives globally, providing vital connections to communities and economies, which translates into Gross Domestic Product increases and employment."
ATR is also seeking to break into what it sees as underserved markets such as the United States as well as seeking to increase its footprint in the freighter market.