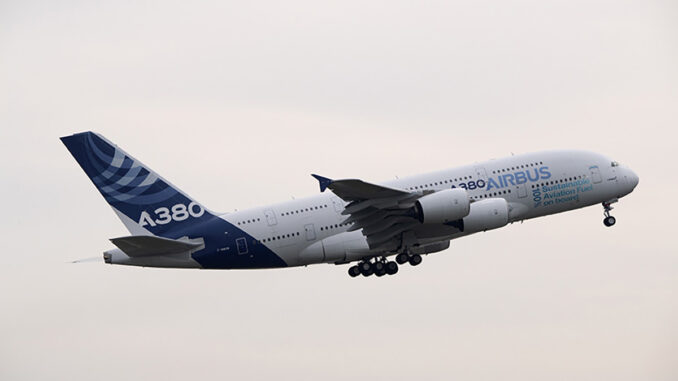 Airbus has flown an Airbus A380 for the first time using 100% fully Sustainable Aviation Fuel (SAF).
The aircraft used in the test flight was the original A380 test aircraft, MSN1, known as the Future Tech Testbed, and it carried out a three-hour flight from Toulouse Blagnac Airport.
A total of 27 tonnes of unblended SAF was fuelled onto the aircraft and was provided by Total Energies which produced the fuel in Normandy, France.
The fuel was made from Hydroprocessed Esters and Fatty Acids (HEFA), free of aromatics and sulphur, and primarily consisting of used cooking oil, as well as other waste fats.
Airbus sees SAF as the key pathway to the aviation industry achieving net-zero carbon emissions status by 2050.
Current Airbus airliners are all certified to operate with a mix of up to 50% SAF and at least 50% Kerosene but the airframer hopes to achieve certification for 100% SAF by the end 2030.