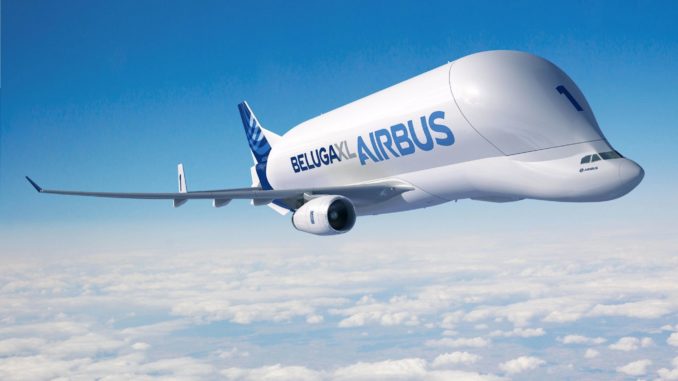 Airbus has begun construction this week of the brand new Beluga XL large transport aircraft at the air-framers Toulouse headquarters.
The XL is will transport British made wings from the Broughton factory in North Wales to Toulouse for final assembly. The current Beluga can carry just one Airbus A350 XWB wing but the XL will be able to carry two at once.
The first aircraft, due to enter service in 2019 will be 6 metres longer and 1 metre wider than the existing aircraft. The Beluga, which takes its name from its distinctive whale shape, has previously been based on the Airbus A300 aircraft. The XL however will be based on the Airbus A330 family, but will retain its distinctive whale shape.
The current Beluga fleet of 5 aircraft is operated by Airbus Transport International and as well as its main role transporting Airbus wings, it is also available to charter by 3rd parties requiring specialist transport.
The first XL will be partially built on the A330 assemble line before being moved to a specialist assembly line for the non-standard parts of the airframe.
The XL will have a wingspan of 60.3 metres and 63.1 metres nose to tail. It will stand 19.9 metres tall. As its main role is the transport of wings from Airbus Broughton it is likely to become a familiar sight in the skies around North Wales.
It will be powered by 2 Rolls-Royce Trent 700 engines.