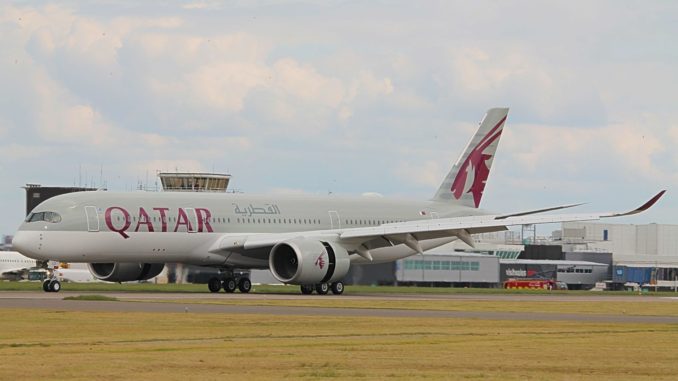 First Cardiff to Doha flight touches down at Cardiff Airport
At 12:30 the very first Qatar Airways flight between Doha (DOH/OTHH) and Cardiff Airport (CWL/EGFF) touched down on Runway 30.
The flight, which arrived 20 minutes early, was given a water salute as it marks the start of a new era for Cardiff Airport with scheduled long-haul flights offering one-stop worldwide connections across the globe via the Qatari capital, Doha.
Qatar Airways A350 lands at Cardiff Airport (Video: Darren Ricketts)
The Airbus A350-900 completed the flight in 6 hours 37 mins and carried outgoing First Minister Carwyn Jones along with Qatar Airways Group chief executive His Excellency, Akbar Al Baker, amongst the passengers.
Qatar Airways daily service to Doha offers a big opportunity for the Welsh Economy to trade with Qatar and the other Gulf States along with one-stop access to Asia.
Qatar Airways Group Chief Executive, His Excellency Mr Akbar Al Baker, said: "Today marks an especially important milestone for both Qatar Airways and Cardiff Airport. The new service, our fifth gateway into the U.K., now provides the people of Wales and the South West with an extensive network of more than 150 destinations globally. We are delighted to welcome Cardiff into our route network and to be able to provide the Welsh people with a new gateway to the world. We look forward to welcoming our new Welsh passengers on board and to connecting them to Doha and many points beyond."
The First Minister of Wales, Mr Carwyn Jones, said: "I am delighted to welcome the first Qatar Airways flight from Doha to our capital city, Cardiff. The new direct service between Cardiff and Doha is a huge boost for Wales. It will open up Wales' links with the rest of the world and deliver new economic, leisure and travel opportunities for Welsh businesses and the people of Wales.
"Providing a direct route into the world's fastest-growing hub airport, Hamad International Airport will also bring Wales closer to leading global markets such as India, China, Singapore and Australasia."
Water Salute (Video: Darren Ricketts)
Chairman of Cardiff Airport, Mr Roger Lewis, said: "This is a pivotal moment for Cardiff Airport, for Wales and the South West of England. The far-reaching consequences of this service for passengers and businesses will be transformational. I sincerely thank H.E. Mr Akbar Al Baker, for the trust he and Qatar Airways are placing in us. I am confident that the team at Cardiff Airport will deliver a world-class service with Qatar Airways for all of our passengers both visiting Wales and those travelling across the world.
"The critically important relationship between Qatar, Wales and the United Kingdom is substantially strengthened today."
Voted worlds best airline by Skytrax, Qatar Airways connects to more than 150 destinations on the map every day from its hub at Doha. It operates a fleet of the latest-generation aircraft including the Airbus A380, 350 and A320neo aircraft, whose wings are made in North Wales. Qatar Airways also operates Boeing 787 and 777, with the 787 Dreamliner being the normal aircraft operated on the Cardiff to Doha route.
Welsh Secretary Alun Cairns MP was also onboard despite his objections to devolving long-haul Air Passenger Duty (APD), something analysts say would not only give a boost to the new Doha route but also provide a massive boost to long-haul flights from Cardiff Airport, his constituencies biggest employer.
The service will initially operate a reduced service of 5 flights per week due to delays in deliveries of aircraft to Qatar. Daily flights will commence on June 17th.