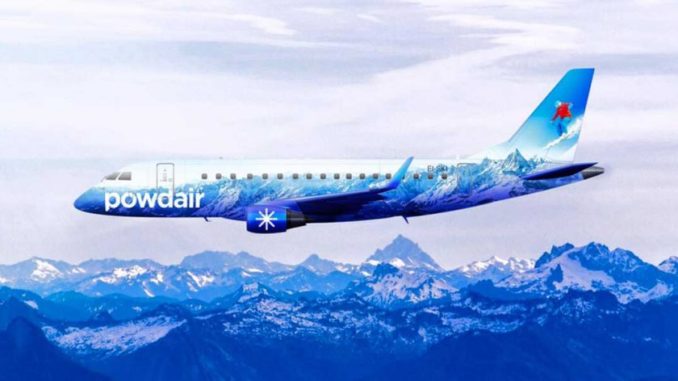 Start-up Ski airline Powdair has said its found a new backer for the venture but it wont fly this winter cancelling the bookings of around 5000 passengers.
The airline was due to begin operations later this month from Sion (SIR/LSMS) to destinations across Europe including 6 UK airports. The idea was to provide access to the Valais ski resorts without the long transfer time from Geneva.
Powdair announced last week that its financial backer had walked away from the project and leaving it unable to launch services, it then turned to crowd-funding to try and raise £3m from its "fans".
Initially claiming the backer walked away for personal reasons, Powdair later said "The collapse of Monarch and Air Berlin, followed by one of our preferred aircraft operators Swiss Adria (Darwin), plus speculation regarding the impact of Brexit on European aviation was summarised in a high profile article. Our investor was not from an aviation background and withdrew their support, and with it our ability to launch the airline for this winter."
Talking about the new backer the airline added "we've had a significant investment offer from a professional and experienced aviation industry investor. Although we're not in a position to confirm the identity of our new potential partner at this stage, their involvement will secure the financial future of powdair.
"However, the due diligence required to finalise this investment will take at least 30 days and we have therefore made the difficult, but what we feel is correct decision, not to launch powdair this winter. Our new investor wishes to ensure that all necessary steps are taken to launch a strong, well-funded airline focused on long term success.
"We expect to relaunch during 2018 as an airline, operating our own aircraft, which gives us a much stronger basis on which to plan route schedules."
The airline has said that the new investor will allow it to launch with its own aircraft rather than wet-leasing aircraft as planned.
Powdair was set up by Zoe Ombler and Nick Davis who had previously been behind other disruptive transport projects including Scoot Ferries, which went bust just 5 months into the operation.
Passengers who have already booked with the airline will receive automatic refunds.