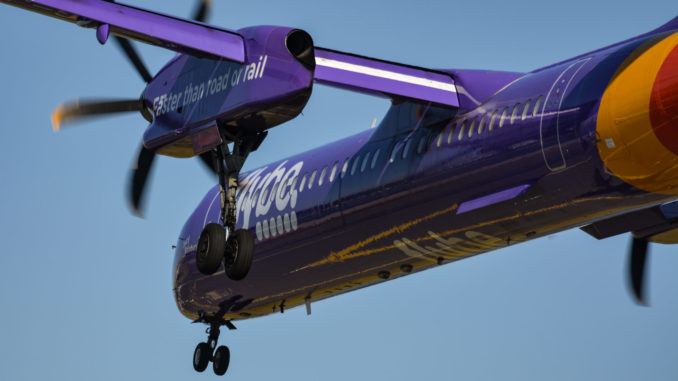 Flybe Ltd, the operating company bringing back the Flybe name to the skies, has taken yet another step closer to its return to flying by announcing its first base and company headquarters will be at Birmingham Airport (BHX/EGBB).
Flybe ceased operations in 2020 after several ill-fated rescue attempts but in April 2021, the assets including the name were sold to Cyrus Capital owned Thyme OpCo Limited, now renamed Flybe Ltd, in a bid to revive the airline.
After the CAA decided it could not use the previous airline's Air Operators Certificate (AOC) it became the first new airline in the UK to be granted an AOC post-brexit.
No formal launch date has been set for the return of Flybe though but the company says that news about routes and tickets will be announced in the coming months.
Flybe CEO Dave Pflieger said: "We are thrilled to be partnering with Birmingham Airport (BHX), the City of Birmingham, and the Mayor of West Midlands to make BHX the location of our new headquarters and first crew base. It was an ideal choice for us due to its great people and highly skilled workforce, its central UK location, and the fact that Birmingham Airport is a global travel hub where local and connecting customers have access to over 150 worldwide destinations.
"Today's announcement marks the culmination of over 12 months of dedicated hard work by all involved, and it would not have been possible without the support of the CAA and the UK Government."
So far one Bombardier Dash 8 has been leased by the company.
Flybe Ltd's headquarters and operations centre will be in Diamond House located near the main terminal at Birmingham Airport.
Nick Barton, Chief Executive, Birmingham Airport, added: "Flybe's announcement that Birmingham has been chosen to become the headquarters for its launch next spring is fantastic news for our region's connectivity needs, and it will bring with it some great new employment opportunities.
"Dave's vast experience in managing start-up airlines and turnaround situations, coupled with the recovery of the Midlands' economy post-Covid, means that Flybe's return to the skies from Birmingham is a shot in the arm for our airport as well as West Midlands businesses and communities. We look forward to working with Dave and his team in preparation for next spring and to launch such a well-known brand here in Birmingham."
Will Flybe return to the skies this year? let us know your thoughts in the comments!