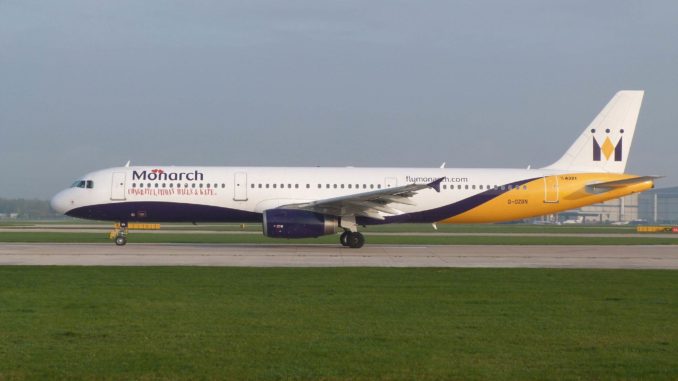 Something interesting happened yesterday whilst the rest of us were talking about MD90s and Jumbo Jets being scrapped three people made a move that has raised a few eyebrows in this office, and seemingly gone largely unnoticed except by an eagle-eyed few on social media.
What was it? A relatively dormant company (first incorporated in January 2023) suddenly appointed directors and a company secretary as well as changing its address to offices near Luton Airport. Nothing too unusual, but this company is called Monarch Airlines Limited.
As mentioned, the company first hit our radar in January when the company was registered by someone called Jake Johnson. It was dismissed at the time as just someone "squatting" on the company name and that it certainly wasn't a serious attempt at reviving the airline that went bankrupt in 2017.
It stayed that way until yesterday when, according to Companies House records, Jake Johnson was removed from the company and replaced by Daniel Ellingham as "Chairman of the Board" and Karolina Cherney as company secretary.
A website also exists for the 'new' Monarch Airlines which says "coming soon" and teasing "We're working hard building a brand new Monarch just for you. Please stay tuned for updates.". It uses the original Monarch Airlines logo, and the famous Crown, and invites the media to get in touch for more information (We have).
Monarch Airlines Limited also changed its address to 960 Capability Green Luton which is a serviced office address near Luton Airport which also offers a business address service meaning there may not actually be an "office" per see.
So what does all this mean? Well nothing at the moment other than to stir some fire in the belly of some Monarch fans, starting an airline is not an easy business and it isn't clear if assets of the airline such as intellectual property i.e. the logo and name, have been bought by this company, indeed it seems odd that they would go to that expense but not bother with the original Monarch domain name.
Some research on the people also doesn't reveal much. The names are not particularly known in the airline industry although Daniel Ellingham was on a Swiss Air advisory panel. But as they have invited the media to get in touch, we will of course and see what they have to say and we'll be the first to give them props if this has solid foundations.
This wouldn't be the first time a Phoenix airline has appeared. Flybe, which went bankrupt in 2020 came back to the skies in 2022, only to go bankrupt less than a year later again and there are countless airlines in the process of starting up with less than 1 in 10 ever actually getting off the ground.
As Richard Branson famously said, "If you want to be a Millionaire, start with a billion dollars and launch a new airline" so money is very much the order of the day for any airline and with effectively only £1 on the books at Monarch Airlines Limited, they will need to have some very deep-pocketed investors.
So perhaps don't expect to see the Crown emblazoned jets appearing at an airport near you any time soon but perhaps these moves may offer, a glimmer (albeit a very very faint one) of hope to fans of the airline that they might once again see the mighty Monarch thundering down runways at UK airports.
In the meantime, if you want to keep an eye on things then visit letsmonarch.co.uk/