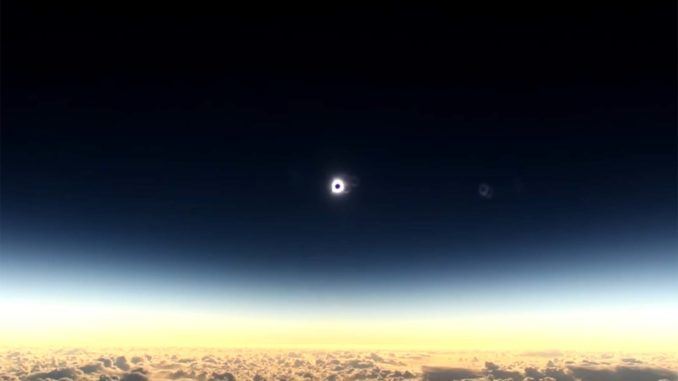 Today sees the total solar eclipse of the sun across the Pacific Ocean and certain states of America. For most people, the period of totality will last around 2 minutes, for some that just isn't long enough, so how do you see an eclipse for longer? Chase it of course!
A total eclipse of the sun happens when the moon passes in front of the sun and completely covers it, casting a shadow onto earth. From the ground, the sky goes dark and for a brief period, you can look directly at the sun and see its corona and solar flares. It's an amazing natural spectacle that happens solely because the Moon is at the exact right distance from the earth to block out the sun.
Watch live!
The moon's shadow crosses earth at around 2000mph as the moon passes in front of the sun so a fixed point on earth gives you between 1-3 minutes of "totality" when the sun is completely covered.
Airlines and Private Jet companies have caught on to this however and offer ways to view the eclipse from the air, traveling with the eclipse, to extend the period of totality. Southwest Airlines gave advertised 5 routes that they say will have an extended view of totality including flight 1375, Seattle to St. Louis; flight 1368, from Portland to St. Louis; flight 1577, from Denver to St. Louis; flight 301, from Denver to Nashville; and flight 1969, from Denver to Atlanta.
Alaska Airlines are operating a special flight from Portland which they say will give the longest view of the eclipses, up to double the time on the ground!
Even the National Science Foundation is operating a special flight onboard a chartered Gulfstream V which is planned to fly at 45,000ft along the path of totality.
There's no second shot for this, when usually we have a little more room for error – National Science Foundation
But is it worth the extra effort just for an extra few minutes of totality? Ben Davies, who flew on a research flight during the 2003 Total Solar Eclipse that passed over Northern Europe, says yes: "Seeing the suns corona is incredibly rare and eclipses give us the chance to see activity on the sun visually."
What a Total Eclipse looks like at 35,000ft (Video courtesy of Alaska Airlines)
The UK will see a partial eclipse today with around 4% of the sun covered by the Moon. The last total eclipse visible in the UK was on the 11th August 1999, the next one isn't until 23rd September 2090.
The eclipse begins at 18:06 BST (17:06 GMT)
Get Starnets FREE Eclipse Guide http://www.starnetlibraries.org/EclipseGuide/