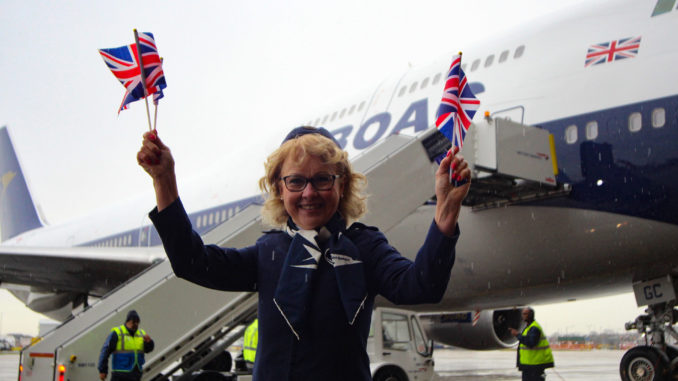 British Airways (BA/BAW) will fly a the BOAC liveried Boeing 747-400 Jumbo Jet alongside the famous Red Arrows at this year's Royal International Air Tattoo at RAF Fairford.
The special flypast will form part of the celebrations of its 100-year anniversary and will take place on Saturday, 20th July, the second day of the airshow.
Captain Richard Allen-Williams, who has been flying for 17 years and will be in command of the BOAC aircraft on the day, said: "We've been overwhelmed by how our heritage liveries have been received by customers and colleagues. There's certainly an air of excitement and pride and we're sure the sight of our BOAC liveried 747 will provide a wonderfully nostalgic moment for the Air Tattoo audience. I am honoured to fly alongside the Red Arrows at RAF Fairford this summer."
British Airways used to fly into the Royal International Air Tattoo on a regular basis bringing Boeing 747's and Concorde to the show on special flights. Boeing 777's have also previously performed flypasts at the event.
Andy Armstrong, Chief Executive of the Air Tattoo, said: "The participation of British Airways aircraft in our flying displays over the years have often provided the most memorable aviation moment of the year and I am confident this summer will be no different. I can think of nothing better than to have one great British institution helping celebrate another."

The BOAC Boeing 747-400 G-BYGC will fly alongside the nine Hawks of the RAF Aerobatic Team, The Red Arrows. The Red's have previously flown alongside Concorde and the Airbus A380 Superjumbo.

Wing Commander Andrew Keith, Officer Commanding, Royal Air Force Aerobatic Team, the Red Arrows said: "Flying alongside this British Airways Boeing 747 will be an exciting and memorable moment for both the pilots in the air and those watching on the ground. I know the wider Red Arrows' team have worked hard with British Airways counterparts and Air Tattoo staff for many months to create this opportunity. The Royal Air Force's own centenary celebrations – marked a year ago – demonstrated the importance of using these high-profile occasions to inspire the next generation and we hope this flypast will be another chance to do that."
The Royal International Air Tattoo takes place from the 19th-21st July 2019 at RAF Fairford in Gloucestershire. It is a ticket only event with visitors requiring an advance ticket.