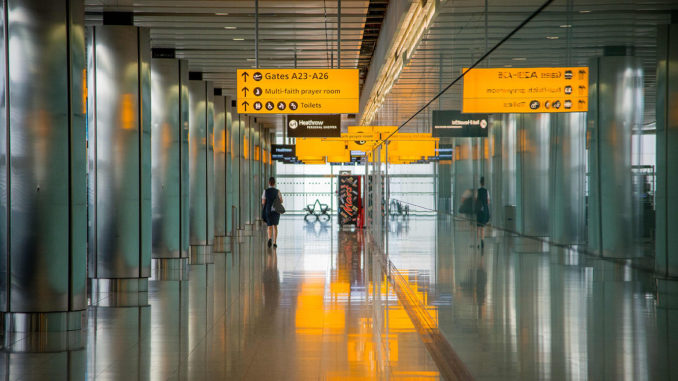 8 in 10 (82%) of the UK's busiest airports have increased their pick-up and drop-off charges in 2019 according to research by the RAC.
The research shows that only London Gatwick, Liverpool, Bristol and Cardiff airports have kept their prices for both drop-off and pick-up the same as last year.
London Luton has the highest charge at £4 for 10 minutes but breaking it down into minutes shows that Manchester Airport, at £3 for 5 minutes, has the highest 'per minute charge'.
East Midlands, Birmingham and Doncaster are among the airports charging £3, up from £2 last year and other airports such as Edinburgh and Newcastle have doubled last years price up to £2.
RAC spokesperson Simon Williams said: "While flying off on holiday is one of the most exciting times of the year, those dropping off or collecting friends or family are often left wincing at the prices charged by the UK's busiest airports for the privilege.
"Many airports charge drivers to drop off and pick up to keep the terminal entrances clear of traffic and to discourage long stays in car parks. Some might also see this as a way to encourage other forms of transport to the airport, but nevertheless, these fees are still unwelcome, especially when you consider how little time most people actually spend at the airport.
"In reality, many travellers simply either do not have easy public transport access to get to the airport and even if they do, they can't always depend on it getting them to the airport in good time."
Pick-up and drop-off fees, sometimes called 'Kiss and Fly charges' are paid by people wanting to drop passengers off at airports and many airports argue that charging higher charges encourages public transport use and reduces car use.
In reality, though it often leads to traffic problems at airports when passengers seek to avoid paying the charges and stop on clearways and approach roads.
It is not all bad news though, Six of the UK's busiest airports still offer free pick-up and drop-off, most notably London Heathrow and London Gatwick.
Airport Drop-Off Charges 2019 (Data from RAC)
| Airport | Initial drop-off fee | Fees thereafter | Changes since 2018 |
| --- | --- | --- | --- |
| London Stansted | £4 for 10mins | £1 per min for 10-15mins; £25 for over 15mins (£20 charge for re-entering within 30mins of first entering.) | Initial fee up 50p |
| London Luton | £4 for 13mins | £1 a minute | Initial fee up £1 but increased stay from 10mins to 13mins |
| Manchester | £3 for 5mins | £4 for 10mins; £25 for overstay of 10mins or re-entry within 30mins | No change |
| East Midlands | £3 for 10mins | £1 for every minute thereafter | Initial fee up £1 |
| London Southend | £3 for 10mins | £5 for 10-30mins | Removed free for 5mins |
| Doncaster-Sheffied | £3 for 15mins | £5 for 16-30mins; £7 for 30-60mins | Initial fee up £1 |
| Birmingham | £3 for 15mins | £8 for 15-20mins; each extra 15mins thereafter up to £48 for 55-60mins | Initial fee up £1 for 5mins more; thereafter tariff change: was £5 for 15mins; £10 for 15-20mins |
| Liverpool John Lennon | £3 for 20mins | £10 for 1 hour; £20 for 2 hours; £50 a day | No change |
| Leeds Bradford | £3 for 30mins | £9 for 30-60mins; £18 for 1-2 hours | No change |
| Edinburgh | £2 for 5mins | £4 for 5-10mins; £10 for 10-15mins; £15 for 15mins-1hr; thereafter £15 per hour thereafter | Standard fee up £1; changed thereafter tariff – was £3 for 5-10mins; £5 for 10-20mins; £7 for 20mins-1hr; thereafter £9 per hour |
| Glasgow | £2 for 10mins | £4 for 11-15mins; £10 for 16-20mins, £15 for 21-30mins | Added £4 to 16-20mins; £5 to 21-30mins |
| Newcastle | £2 for 10mins | £4 for 10-30mins | Both tariffs up £1 |
| Aberdeen | £2 for 10mins | £10 for 30mins; £30 for 1 hr | Same initial fee for 5mins less |
| Southampton | £2 for 15mins | £4 for 15-30mins | No change |
| Belfast International | £1 for 10mins | £3 for 10-20mins; £5 for 20-60mins | No change |
| Bristol | £1 for 10mins | £3 for 10-20mins; £5 for 20-40mins | No change |
| Belfast City | Free for 10mins | £3 for 10-30mins; £6 for 30-60mins | No change |
| Cardiff | Free for 10mins | £5 for every 10mins thereafter | No change |
| London Gatwick | Free at both terminals | No waiting | No change |
| London Heathrow | Free at all terminals | Police enforcement applies for those waiting | No change |
| London City | Free drop-off | No waiting – penalty charges issued (not specified) | No change |
| Jersey | Free drop-off | No parking – penalty charges issued (not specified) | No change |